Conversion Bidding for Display Campaigns
Earlier in December Google announced that we can now use conversion based bidding for Display Network campaigns. The Google Display network is one of the most misused and under utilised of the whole Google Ads ecosystem. Luckily for our clients, here at Bluewave we have been using the Display Network for over a decade to strategically enhance and compliment the search marketing that conduct via AdWords and other PPC networks.
So many advertisers have all campaigns set to "Search Network campaigns with Display Expansion" rather than having separate search and display campaigns. This always leads to display campaign data being mixed with search campaigns, making results hard to assess for business owners that manage their own accounts, or inexperienced account managers. It also leads to issues like call extensions being shown on display ads, which quite often results in a lot of clicks being made that do not result in phone calls or website visits.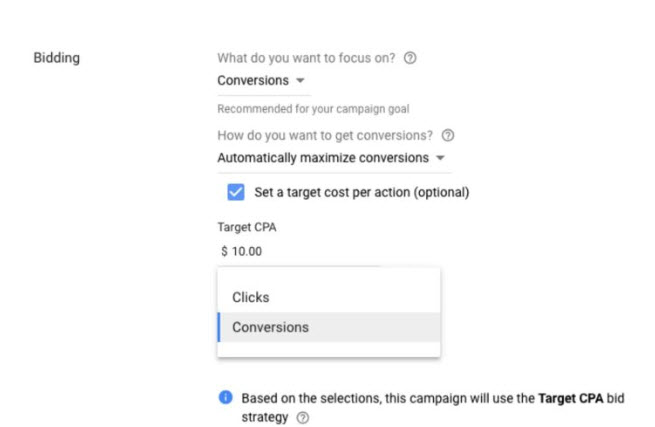 We recommend running completely separate search and display campaigns, as allows you to optimise traffic from both networks separately, and get the best results from each.
Once you have distinct search and display campaigns, then we recommend trialling conversion-based bidding for display campaigns called "Pay for conversions".
With this new bidding option, you are charged when visitors convert from the ads rather than clicks or ad impressions.
This is already available for search campaigns, where you can set it up to pay by conversion at a Target CPA (cost per acquisition) in the Bidding section of campaign settings. This does require that meaningful conversions are being used(such as a purchase or lead) and that you have already generated some leads using manual settings (see the thresholds below), so the machine learning that fuels these auto bidding rules has some data to work with. Once this has been setup, Google provides the following example of display CPA bidding, "Let's say your target CPA is $10, and you drove 30 conversions over the weekend. You'll pay exactly $300, with an actual CPA of $10."
Pay for conversions uses the same machine learning as CPC payments. Google has stated that you'll never pay above your target cost per action.", however in practice for the accounts that we have worked on some guidance in placements and ad copy is still needed. What they will do is have a red hot try at generating as many conversions as possible at that target CPA.
What do you need to turn this on?
Currently, this conversion based bidding for Display has some high requirements for conversions needed before this can be turned on. Your Google Ads account needs more than 100 conversions in the past 30 days to be eligible for pay for conversions. In addition to this, the time between click and conversion must be shorter than 7 days for at least 90 percent of those conversions.
There are a few restrictions, and this strategy is most appropriate for campaigns that have a high volume of display traffic, and also campaigns that have similar margins of sale. The upper limit for target CPA is also $200, so for high priced industries the machine learning may struggle.
Also, for people that have Adwords tied closely to their CRM or call reporting, this strategy does not work for conversions imported from calls or Salesforce or for cross-device conversions. Also , it won't work with shared budgets.
If you are spending too much on Display with little result, or are not sure if your campaigns are mixing Search and Display traffic then contact us for a friendly chat and see how we can make display campaigns work for your business.