Why You Should Try Bing Search Advertising
When most business owners think about search marketing, it is quite rare for them to think past running Google Ads.
It really does seem like Google has the monopoly on all search traffic, as it is the default search engine that nearly all of us use every day.
I say nearly all, because even in 2019 there are still some people that can't access Google search, or choose to use another search engine. This may sound strange to you if the name Google is synonymous with search, but there are valid reasons why some people are not.
These reasons are mainly
 They have a corporate device, or are inside a corporate network so their IT department has locked them into using a Microsoft browser. The searches on these browsers default to Bing.
Older or less tech savvy people that buy a Windows device, and just search using the default browser or internal windows search features.
People that are using voice search on non-Google devices.
While this may not seem like a lot of people, from our research, experience running campaigns and information gathering we can see that this is around 15% of all searches.
Most advertisers have doubled down on Google Ads, and continue to fight for the premium positions (paying premium CPC's) in competitive industries. Click costs have increased year on year, and it takes careful management from experts to see a strong return. But not as many have made the jump over to Bing, which means there are still rich opportunities to tap into. While Microsoft has greatly improved the advertisers experience and ability to place ads over the past year, it is still a much less intuitive experience than Google Ads.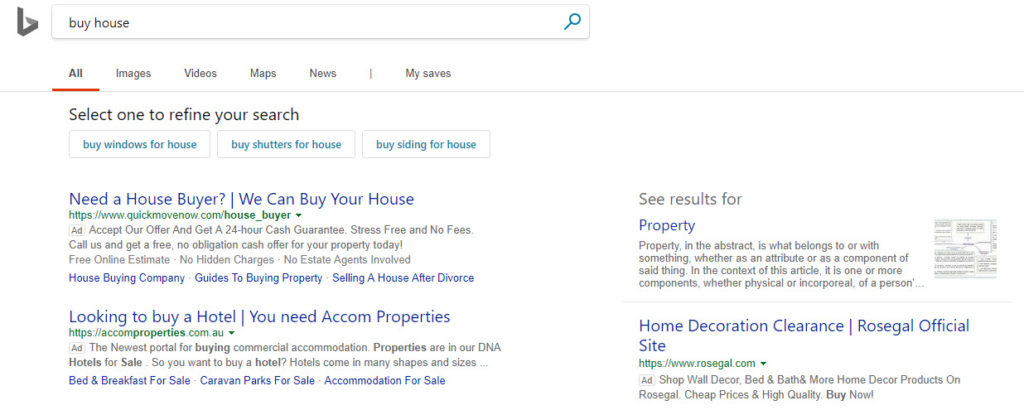 Here at Bluewave we were early to the Bing advertising platform, and it is now the second or third channel that we expand our client's campaigns into. We get great results due to the lower competition and higher quality (on average) traffic that is generated. The demographic is skewed older, and actually a bit higher in socio economic factors meaning you generate quality leads / sales at a lower cost. The key to remember though is that the volume will not be the same as Google ads, so while there is treasure to be found, it is not an expansive channel and traffic is limited.
While some features on the platform are limited, more are getting released and all the major capabilities are there, such as remarketing, automation and display ads via the Yahoo ad network.
You can also import your entire Google Ads account into Bing ads, and have this setup as a regular synchronisation job if you like. This is a great way to get started, however we recommend
If you have not trialled Bing ads, please reach out and we can run you through  a trial campaign to demonstrate the potential for your business.